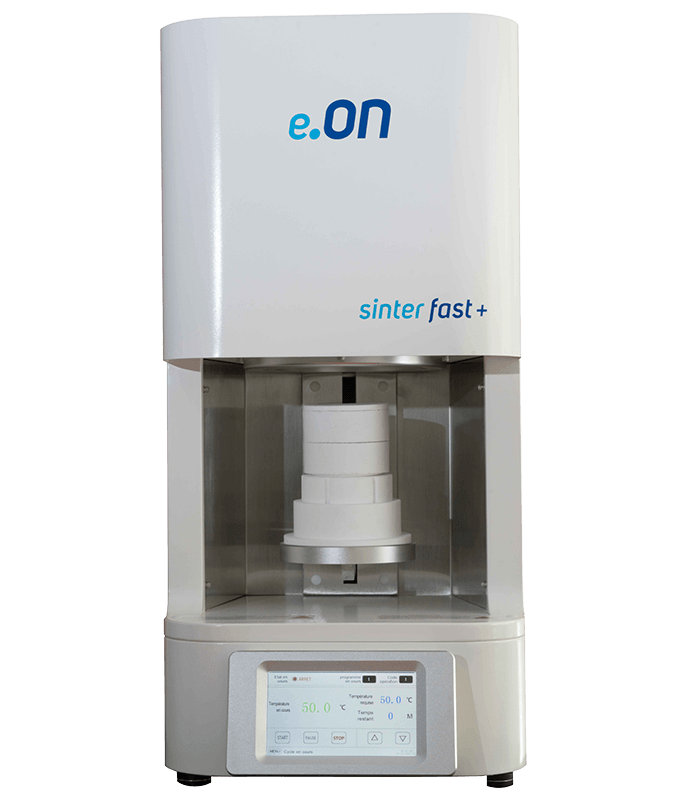 Zirconia sintering furnace
e.ON sinter fast +
Zirconia sintering furnace e.ON sinter fast + by Ugin Dentaire presents state-of-the-art equipment and outstanding performances, such as sintering units in just one hour.
The 40 programs increase the possibilities for long and very short sintering cycles.
e.ON sinter fast + is therefore the equipment of choice for production of many elements in conventional cycle and the rapid production of some elements in dental laboratory.
Specifications
High-definition colour touch screen 7'' (155mm x 87mm)
Maximum temperature 1730°C
Operating temperature less than 1650°C
Temperature accuracy ±1°C
Cycle time: from one to several hours depending on the zirconia
Maximum heating rate to 65°C/minute
4 heating elements (rods) in MoSi2 (Molybdenum Disilicide)
Thermocouple double component Platinium/Rhodium
2 trays for sinterizing with cover and zirconia pearls (capacity up to 40 units) in conventional cycle and up to 20 units in short cycle)
40 free programs with 40 possible stages for each program
Graphical cycles visualization
4 display languages: French, English, Italian, Spanish
Muffle size (height, diameter): 120mm x 110mm
External dimensions (height, width, depth): 830mm x 420mm x 600mm
Weight: 74 Kg
Maximum power consumption: 3 kW
Supply voltage: 230V (50/60 Hz)
Manuals to download
Brochures to download
Vidéo