About us
Ugin Dentaire: Solutions for dental laboratories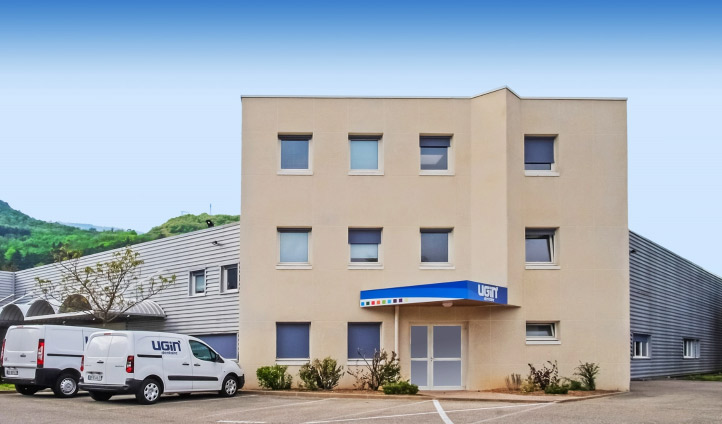 History
For over 40 years, UGIN DENTAIRE has developed manufactured and distributed products and materials to the dental market. During the 1980's, due to the success on the french market, UGIN DENTAIRE was setting up an international distribution network.
Quality
UGIN DENTAIRE is committed to a quality approach, certified under ISO 9001 and ISO 13485 standards, with the main objective of customers satisfaction. UGIN DENTAIRE has a highly efficient after-sales service which provides customers with technical assistance on materials and products provided by qualified teams. We carry out in France and all over the world adapted training and demonstration to improve the use of our products.
Manufacturing and distribution
Since its creation, UGIN DENTAIRE intends to give you easier solutions in order to make reliable your daily work.
UGIN DENTAIRE, offers also a wide range of consumable: alloys, waxes, polishing/sands, partial framework program, resins, investments, silicones, attachments, ceramic, artificial teeth. Large international companies trust us. UGIN DENTAIRE is the official distributor in France of products Ceramco®, Schutz Dental, Ruthinium®, Nobil Metal, Erio.
Certifications
UGIN DENTAIRE is ISO 9001 and ISO 13485 certified and takes the greatest care to satisfy its customers.
A few landmarks:
1964: Ducatron Alpha, the first induction machine applied to dentistry.
1976: Ducatron Junior, the extension of its predecessor.
1980: Ceramic furnaces and burnout furnaces.
1984: Laser, the first high-end ceramic furnace with a microprocessor.
1985: Ducatron Série 3, average frequency induction.
1987: Ceramic furnaces C20/C100, democratization of microprocessor furnaces.
1999: Lectra Press, first ceramic/pressing dual furnace.
2001: Inducast, vacuum and pressure induction.
2006: Satellis Press, the new multi-point pressing system.
2010: Ducatron Quattro, the new fully autonomous centrifugal induction casting machine.
2014: Ceramic furnaces e.ON c200 and cp250, a concentration of technological innovation.
2016: Minicast 2.
2017: Sintering furnace e.ON sinter. Upgraded burnout furnaces Programix 50, 100 and PC 30. Integral 2, more compact and performing.
2018: e.ON Sinter +, with a newer and ergonomic design. e.ON Sinter base, more compact and efficient. Miniclean 2, newly designed.
2019: Ceramic furnaces e.ON 200 neo, e.ON 250 neo and artis neo.
2021: Sintering furnace e.ON Sinter Fast plus, with new and advanced technology.
2023: Sintering furnace e.ON Sinter Fast.