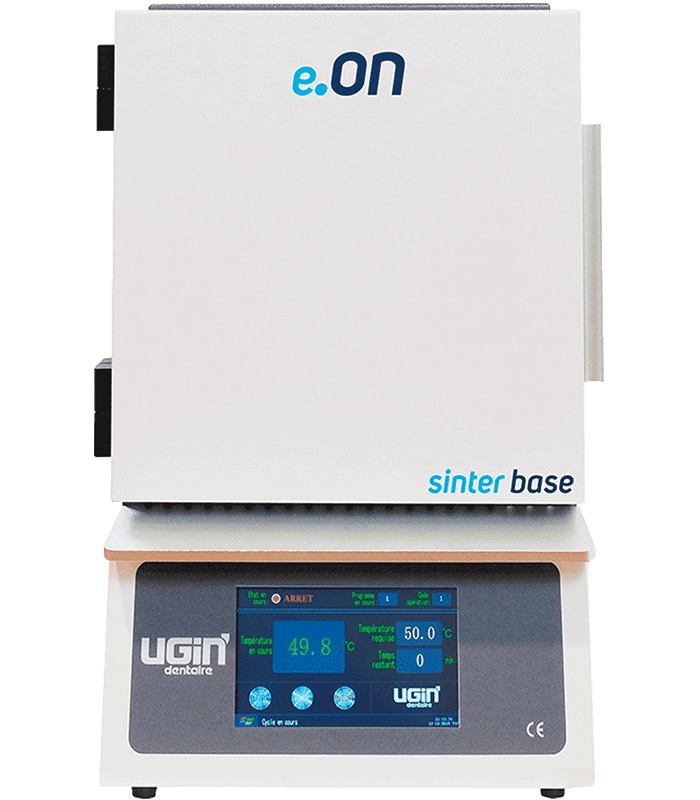 Compact zirconia sintering furnace
e.ON sinter base
Zirconia sintering furnace e.ON sinter base is a compact size furnace with high performances.
Made as a bench furnace, fits perfectly into small spaces.
With high performances, it is equipped with four heating elements (rods).
It incorporates an automatic door locking to preserve muffle components and avoid thermal shocks onto prosthetic units.
Specifications
High definition colour touch screen 7″
Maximum temperature 1600°C
Maximum heating rate to 40°C/minute
4 heating elements (rods) in MoSi2 (Molybdenum Disilicide)
1 tray for sinterizing with cover and zirconia pearls (capacity till 20 units)
40 free programs with 40 possible stages for each program
Graphical cycles visualization
4 display languages: French, English, Italian, Spanish
Muffle size: 110mm x 110mm x 110mm
External dimensions (height, width, depth): 540mm x 400mm x 450mm
Weight: 58 Kg
Maximum power consumption: 1830 kW
Supply voltage: 230V (50/60 Hz)
Brochures to download
Vidéo