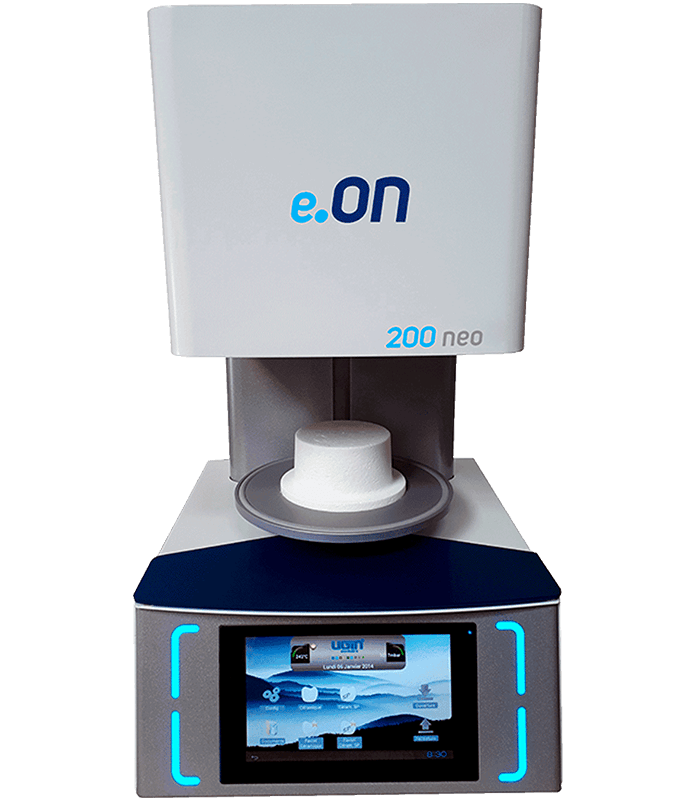 Ceramic furnace
e.ON 200 neo
Ceramic furnace e.ON 200 neo and ceramic firing and pressing furnace e.ON 250 neo combine a range of technological innovations to meet the requirements of today's ceramic materials.
High definition colour touch screen 7″.
Detection and display of malfunctions.
Thermal inertia mastered, no difference between muffle temperature and ceramic work due to fibered refractories.
Accuracy of firing, reliability of the ceramics after firing with thermocouple control and temperature regulation in optimal position in the chamber.
Specifications
100 ceramic firing programmes + 100 corresponding favorite programmes
100 ceramic firing programmes + 100 corresponding favorite programmes
Control and monitoring of firing cycles by dual display color graph
Automatic calibration program
Data transfer and storage via USB stick
6 display languages : French, English, German, Italian, Spanish, Russian
External dimensions (height / width / depth): 572 x 320 x 360 mm
Weight: 22 Kg
Maximum power consumption: 1850 W
Supply voltage: 230V (50/60 Hz)
Brochures to download