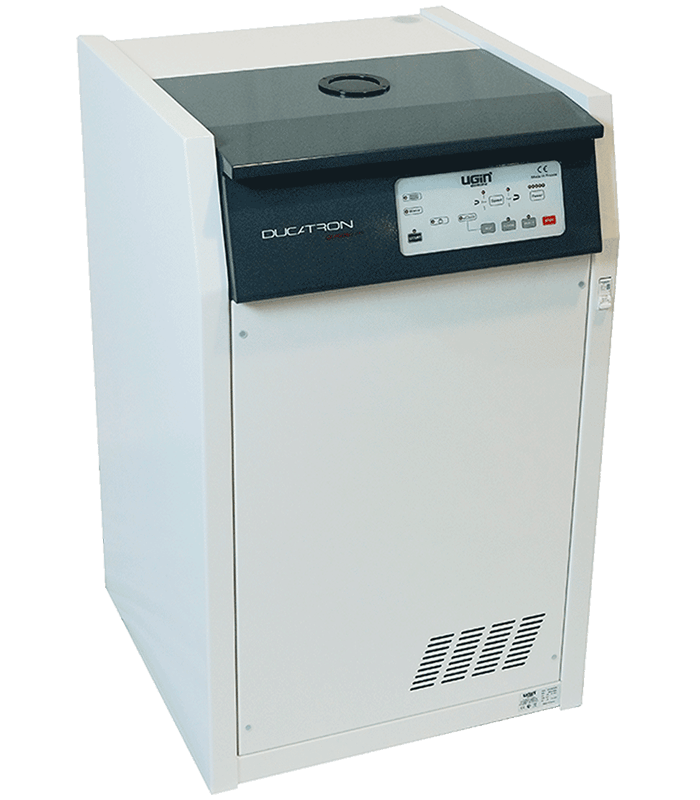 Centrifugal induction casting machine
Ducatron quattro
The centrifugal induction casting machine Ducatron Quattro is made for melting all dental alloys except titanium.
Silent, streamlined technology
The DC gear motor drive gives a silent-running system.
Higher starting torque
No more need to adjust belt tension.
Low noise level.
Vibration free.
Easy integration
Completely stand-alone system, only requires a 10/16 A earthed plug.
Closed circuit cooling system.
Tough yet compact design fits neatly into your workspace.
Safety
Coolant level warning light.
Generator warning light.
Cover lock indicator.
Front-mounted double-pole mains circuit breaker.
Ergonomic, energy-saving design
Clear view of the alloy fusion process.
Touch button control panel.
Intuitive, straightforward controls.
Timed end-of-cycle shutdown of the cooling pump.
Auto standby function when idle for 5 minutes.
Functionality
No special maintenance required apart from the cooling level (once a year).
The coolant level can be checked annually using the front-mounted operating panel.
Includes a wide range of accessories for immediate use: 5 crucibles (2 Silicarb, 3 Silicast 2000), 1 Silicarb glassy carbon insert, 1 quartz rod, 4 rubber bases 1X-3X-6X-9X, 4 metal rings 1X-3X-6X-9X, 1 fork for 6 cradles 1X-3X-6X-9X-D.42-D.92
Specifications
Fusion:

Generator frequency: 130 KHz
Fusion capacity: 60 g of alloy
Power adjustable from 20 % to 100 %

Injection:

Centrifugation speed: 450 rpm
Two start modes: fast (for non-precious and semi-precious alloys) and moderate (for precious alloys)

External dimensions (height, width, depth): 980mm x 600mm x 620mm
External dimensions open cover (height, width, depth): 1120mm 600mm x 620 mm
Weight: 95 Kg
Maximum power consumption: 2500 W
Generator power consumption: 2000 W
Supply voltage: 230 V (50/60 Hz)
Manuals to download
Brochures to download
Vidéo